Siti PlaNet
» Child Friendly Cities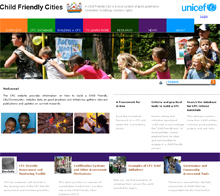 www.childfriendlycities.org
Realizzato da: PlaNet S.r.l. e CDeV
Tecnologie: html; php; shtml; www-sql;
Child Friendly Cities: www.childfriendlycities.org
Powered by PlaNet in the period 2003-2012, this website was developed to provides a powerful tool for the exchange of information, data and networking among Child Friendly Cities (CFC) partners and others interested in the situation of the urban child. It includes information about the activities, objectives and work of the Child Friendly Cities Secretariat, the global Child Friendly Cities Initiative, links to CFC partners, information on urban issues and examples of best practice from Child Friendly Cities across the world.
The website was also developed to inclued the
Child Friendly Cities database
with information on specific action, programme partners, publication, research, events, social mobilization and participation on the issue of child friendly cities.
Il progetto grafico e la
realizzazione software del sito
sono a cura di
CD&V S.r.l. Grafica - Pubblicità - Comunicazione
e
PlaNet S.r.l. Sistemi informatici