Ticka – Automated ticketing system (approved SIAE / Revenue Agency): an automated system for tickets issuance with highly advanced and innovative technological features, an integrated system for the promotion and management of the activities connected to the ticket office of you and not a simple system for issuing admission tickets.
Ask for information on Ticka system.
Automated ticketing management system - ticka
---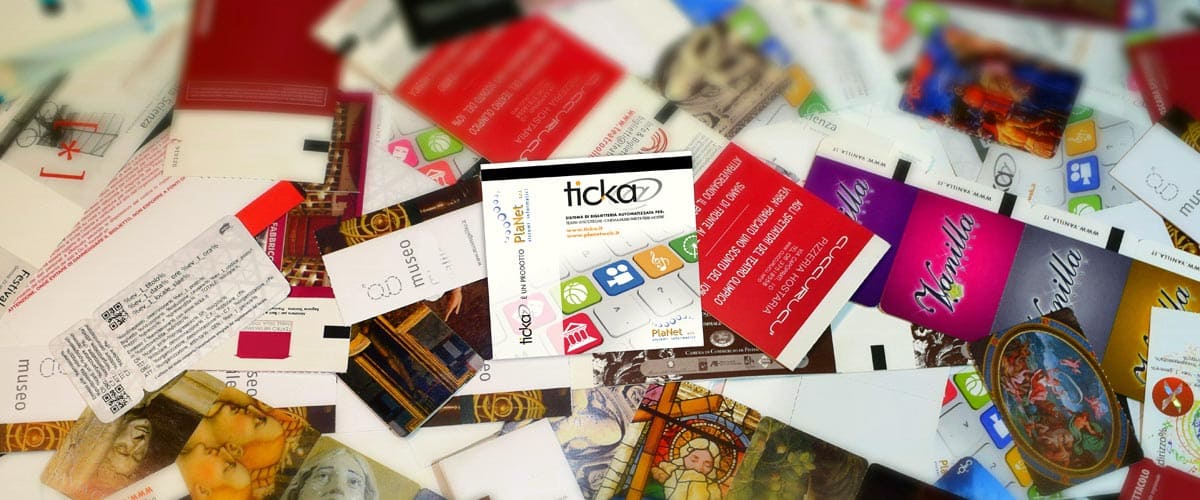 ---
Automated ticketing system Ticka allows the issuance of tickets in accordance with the current legislation; it's a software platform certified by the Department of Computer Science and Engineering of the University of Bologna and recognized as suitable by the Revenue Agency.
By volume of access tickets issued, based on data from recent years, our systems consistently exceed the quota of eight million per year. Ticka serves some of the main Italian theaters, Parks, Exhibitions and Museums in terms of attendance.
The system we propose is therefore extremely reliable and flexible.
Created for the first time in 1998, Ticka was developed in its first version with the collaboration of the main stable theater in our region, and is therefore particularly responsive to the real management needs of theaters. This approach has allowed us to integrate specific features such as:
advanced subscription management (shift change, multi-map and choice subscription)
online sale of tickets and season tickets also with promotional codes
overbooking management of the hall with a view of seat occupancy in real time
Our supplies are inclusive of everything:
there are no additional costs for the release of regulatory or evolutionary updates relating to the modules purchased
there are no commissions percentages on the securities issued
assistance in requesting the SMART CARD and our presence when the system is activated is included.
General system functionality
GENERALITY
entirely Web Based system, usable on any type of network (LAN, WAN, VPN, etc.) it only requires a browser and a small print driver for the stations responsible for the physical printing of tickets;
management of unlimited operators, organizers, clubs and halls, at no additional cost, with the possibility of restricting access to the data of some (or local) organizers only to particular users;
management of any type of event in the Show and Entertainment sector;
advanced management of plant sales, with multiple selection of places (selection of areas or by dragging "brush") using the mouse, zoom functionality and multi-layer management;
possibility, without additional licenses, from access the system remotely, from back office stations, to make configurations, manage reports, send summaries, etc.
TYPES OF TICKETS
printing of any type of title (tickets, season tickets, open season tickets, season tickets) for each type of event (show and entertainment)
advanced management of season tickets with: multi-plant season tickets, shift change (paid or unpaid), supplement payment (from one rate to another) and overbooking for the sale of seats sold unused (also available with access control);
various types of passes: open or free shift, fixed shift, at choice (eg 3 events at choice out of 5, generally N on M), management of open date tickets through open subscription + automatic validation (emitter turnstile);
ability to customize the print format of the ticket (also with the data of the participant in the event) in a wide range of sizes, from credit card format up to A4, also using different formats at the same time on different printers within the same event or the same subscription;
management of complementary or related services (dinners included in the ticket, additional pillow, etc.).
RESERVATIONS AND ALLOTMENTS
management of reservations of tickets and season tickets, both at the ticket office and on the phone, on a map or without a map, possibility of managing portals for reservations only;
management of contingents for allotments with multiple selection of places by drawing areas with the mouse or "brush" mode, in various ways: manual, massive, single and block revocations;
possibility to book e block reserved seats to press, authorities or service personnel and to customize the display of some types of reservations for easy recognition on the map;
BASIC REPORTING
management of the summaries of the law C1, C2 and C3, also exportable to excel, hybrid reports C1 + C2 for balancing receipts;
management of reports relating to "Other income" earned on the occasion of the events, or generic for the month, but not certifiable by issuing access certificates;
management of copyright (with various methods of calculation and printing, also parameterizable) and of the tax on entertainment;
specific reports for the management and verification of cancellations, by event and by period;
access control system report to verify actual participants in the event.
ATTENDANCE AND RECEIPTS REPORT
data availability of takings of every season, of every event, of every show, of every day, of every point of sale, of every terminal, of every operator, both at the main ticket office and at the various points of sale;
reports on visitors and subscribers, divided by type of subscription, old and new, reconfirmed and non-reconfirmed subscriptions, etc ...;
in the event of a date or program change, unforeseen closure or other unforeseen event, the system provides the contact details (telephone, fax, e-mail, mail or SMS) all the people who had reserved a seat and all the subscribers who had a reserved seat, both for a certain date, for a certain event, and for all the performances of a certain show.
Other features available as optional modules
ONLINE SELLING
Internet ticket sales, at full and reduced price, by credit card and bank transfer (or prepaid card); it is possible to view the maps of the shows, with the availability of seats in real time and to choose the exact seat or any sector with an unnumbered seat;
sale of subscriptions via the internet with free and fixed shift, with a blocked event list or with an event list of your choice (of the type 5 out of 10), at both full and reduced prices: it is possible to sell subscriptions online by credit card; provides the possibility to view the maps of the shows (with the availability of seats in real time based on the combination of events selected) and to choose the exact seat (multi-plant events are foreseen);
print tickets and e-tickets from home, or open date tickets without going through the cashier for purchases made online (function available in the presence of an access control system);
ACCESS CONTROL
advanced systems for automatic access control, simple integration with any hardware and software device or system using specific "OVER IP" communication protocols; the use of brac is foreseenpods, rfid tags, badges, smartphones and other media such as e-tickets;
real time attendance: control of users present in the premises (also by means of a personal ticket) with an access control system capable of reading entrances and exits;
MANAGEMENT OF PARTNERS AND SALES NETWORKS
possibility of carrying out the massive prepress of tickets or passes, to entrust the sale to third parties, and cancel unsold items with massive and automatic systems (the procedure is assisted by BARCODE readers and has ample safety margins with respect to operator error); There are also distribution support tools such as reports or delivery lists, facilitated invoicing of sales, returns management, etc.
possibility to activate unlimited points of sale, sellers, on-site and off-site sales networks, with both complete and reduced management functions (booking and printing only);
SSO management (Sigle Sign On) for automatic authentication of clients / terminals / users from other authentication systems, such as eg. banking system terminals;
PROMOTION and MARKETING
ability to manage promotions on tickets and season tickets, including via the Internet, through on-line management of promotional codes, discount cards and campaigns or customer profiles, with possible restrictions on particular shows, events, groups or periods of time;
management of gadgets and related services: gadgets must be considered in a broad sense, services such as pillows, booklets, parking, hotels, etc. are also referred to as gadgets.
management of groups and children's theater with the ability to manage directories, reservations, waiting lists and massive prints;
sending communications (mail, SMS) to those who have booked, to subscribers or simply to those who want to be informed;
It is possible to transfer (or manage) automatically to the website the billboard, dates, prices and booking and sales status of the seats in the hall for each event, with geo-location the venues of the events;
multimedia totems - touchscreen: possibility to book or show information on events, attendance, sponsors, etc. also on live service monitors in the foyer using the slide show module, a completely user-configurable system that allows you to view the floor plan (or the number of seats available) alternating with images and sponsor slides.
DEDICATED PORTALS
Portal / the Sales Networks: it is possible to give restricted access to partners with whom you intend to establish a collaboration relationship. The Sales Networks, which can be organized in a specific hierarchy ("Sales Network", "point of sale" and "seller") have access to a price list and a payment method specially designed for them. Adequate reporting makes it possible to know the sales of a sales network with detailed purchases divided by "Sales network", "point of sale" and "seller". Based on the commercial agreements stipulated with the partners, it is possible to manage the collection at the time of purchase (credit card) or in the final balance (with credit management).
School portal: it is possible to give restricted access to schools that wish to do so. Schools have access to a price list and a payment method specially designed for them. According to the preferences of the schools, it is possible to manage the collection at the time of purchase (credit card) or by bank transfer to be sent to the manager.
Updates, reliability and technical assistance
With tick @ you will have a product that in recent years has allowed the issuance of over eight million tickets used in more than 150 venues every year.
Assistance software is carried out directly by PlaNet through remote assistance and, if necessary, with on-site intervention. In the after-sales assistance service, there is the possibility of a direct intervention by one of our operators on the system, to solve any problem.
Each new version of the product is released to the customer free of charge.
Additional speakers
Each station enabled to print tickets or passes is referred to as a cash desk, is characterized by a special software that uniquely identifies it and puts it in direct communication, through the local network, with the tax form, of which it becomes an integral element.
The supplied system obviously includes a first cash desk, but it is possible to add others - starting from the Tick ​​@ base version - with a fixed PC or laptop.
Training and start-up for operators
The use of the system is simple and intuitive, in one day it is possible to train the operators and assist them in entering the first data.
Training is also carried out on the formal obligations related to the use of the automatic system.
For more information you can use the specific form to request information on the ticketing system Ticka or visit the official website of the ticketing system Ticka.